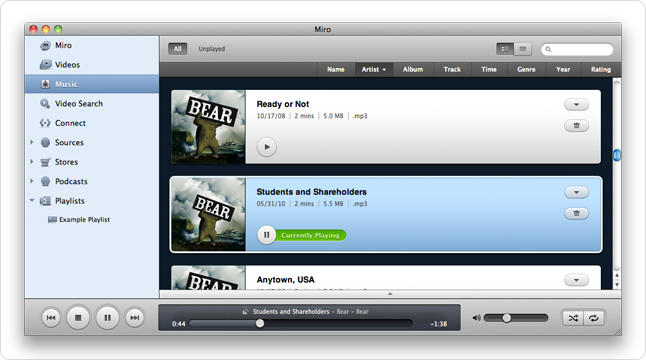 Participatory Culture Foundation has just released a new cross-platform open source media player called Miro 4. The application has clean and nice looking user interface, loads of features and good performance. Also, an iPad app will follow in about three weeks.
The desktop version's long list of features in quite impressive. They include:
Compatible with your current music library (e.g your iTunes or Windows Media Player library). Just point Miro to your music and video folders and those files will appear. Nothing will be changed.  
Compatible with a variety of formats such as MPEG, Quicktime, AVI, H.\264, Divx, Windows Media, Flash Video and more.
Sync with Android devices. You may connect multiple devices simultaneously and data if required.
Amazon and Android Market integration. Purchase music from the Amazon Music Store and Android apps from the Android Marketright from inside Miro itself.
Download, manage and play almost any video including Youtube, podcasts, Amazon, and bittorrent content.
Convert videos into different formats with with presets for a number of devices including iPhones, iPods, iPads, Android phones, and more.
Share your media on your network using WiFi for streaming and media transfer.
Miro 4 is a solid media manager and is definitely something worthy to try out especially for Android users. Another notable iTunes alternative for Android users is DoubleTwist. Miro 4 is available on Windows, Mac OS X and Linux distributions for free and can be downloaded here.
And on a side note, Participatory Culture Foundation also has a nice and easy to use video converter tool called Miro Video Converter. However, it's on available on the Mac.